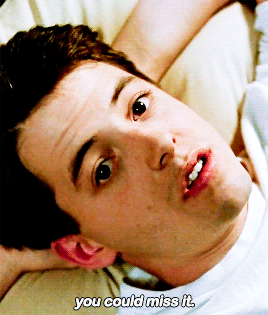 Good old Ferris said it best. "Life moves pretty fast. If you don't stop and look around once in a while, you could miss it"
It's actually crazy how quickly time does fly by. You never think about this until you're 35, sitting in bed on a Friday night, and looking at old pictures of you being fun (and out of the house later than 9:30pm).
Today, I was painfully reminded about the fact that Tupac died over 20 years ago! Not that I was a fire hard Tupac fan. It's just that I remember seeing the news that he was shot on TV, then days later, hearing he actually passed away. That was a major day in hip hop. Then the next year, Biggie was shot and killed. I was around for that and it was a big moment in life. My co-worker joked that perhaps 'Pac should've been riding in an Uber (cue the loud groan). Then, because this particular coworker is young and fill of youthful spite, he reminds me that it had been over 20 years since the East coast/West coast beef.
What's happened since then? You know… I went to high school, graduated from high school, I went to college, graduated from college, moved a billion times, lived in Sacramento, did ministry work, moved to Oakland, and dipped my toes in the tech sector. There are lots of other little things that went down in the margins, but that's the general gist. It's crazy to think that I'm basically two years away from being eligible for a 20 year high school reunion 😱!
Aside from being legitimately old now (mid 30s, crazy!) I'm trippin' over the fact that time is real a slippery mofo. Some of this stuff seems like it happened yesterday. A lot of the pictures and working I read from myself at various points asking the way, sound like they're from a different person completely. It's weird to think about how much effort it takes to change some things, but other stuff is vastly different with just the passage of a little time.
I had a visit from one of my best and oldest friends this week and SILLY how life works. In some ways, it's one of those fabled friendships, where to people don't see each other in 4 years, but immediately hug it out and fall right back in rhythm like nothing changed. The inside jokes are still there, the timing is there, the back and forth is the same. Nothing seems to have changed, until it's time to catch up. You both tell stories about what life has been like (which becomes difficult, once you remember where things dropped off). You realize just exactly how much you've been through. How much you might have just written off because you were going through it. You later to them and realize that your friend has been through some things! Life isn't as simple or easy as it was in high school or college and together, you realize that in a lot of ways, things are better than they've ever been. So much to look forward to, lots of things still in store. However, you two are not the same two dudes that used to get out over a new Pharoahe Monch jam/feature (let's be real, those are STILL exciting). That is included, but there's more happening in life now.
It was amazing to see how much changed and how much stayed similar. It made me wonder how much I've set myself up for unnecessary reunions like this, with people that I could literally see easily at any time. All it takes is a text here or a phone call there, to incorporate myself in their lives. I disappear to get entrenched in some self pity, or self healing journey and emerge separated from community. I want to lean how to have those kinds of benefits without having to retreat into myself. I'm missing out on all the changes and progression in people's lives. I gotta start doing better than that.
Life does move fast, if you're not paying attention, people will not be the folks you remember (which is not a bad thing), but there's some sadness in not being there to witness and support friends through the things that life throws at us